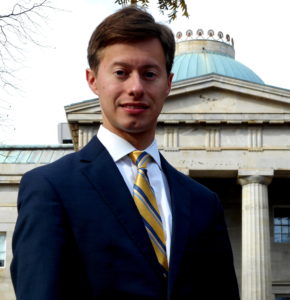 Since May 2019, I have served as a general assignment and statehouse reporter for Spectrum News in Raleigh, North Carolina. My reports air across the state as part of Spectrum's 24-hour local cable news network.
I enjoy the community interaction general assignment reporting brings because it allows me to understand different facets of the community under a variety of conditions. I also have a strong interest in politics and economics and report frequently on these subjects.
I believe journalists play a critical role in helping the public understand the issues facing policymakers and, in turn, helping policymakers understand the potential impact of their decisions on the people they serve. Throughout my journalism career, I have emphasized reporting on public policy matters. My interview subjects have included governors, members of Congress, numerous state and local lawmakers, and countless citizens from all walks of life, each with a story to tell.
Prior to coming to work for Spectrum, I spent nearly six years reporting for KRCG 13, the CBS affiliate in Jefferson City, Mo. During my time there, I earned a Gold Award from the Kansas City Press Club for state Capitol beat reporting. Additionally, I was part of the news team that earned an Edward R. Murrow Award for overall excellence. I also helped launch the station's drone journalism program, becoming the first on-air reporter in mid-Missouri to earn an FAA Part 107 Commercial UAS Operator license.
I hold a master's degree in public affairs reporting and a bachelor's degree in convergence journalism, both from the University of Missouri School of Journalism.